Westin Deli
Pastry Boutique
Nourish your soul with a gourmet experience at The Westin Tokyo's patisserie, Westin Deli, with its myriad of savory delights from cakes, pastries, chocolates, and more.

The Westin Deli, a gourmet experience found right here in the hotel, offers an array of irresistible delicacies-a true feast for the eyes as well as the palate. Choose from our assortment of rich and delectable cakes that melt in your mouth effortlessly.

In addition to the hotel's mouth-watering cakes, Westin Deli serves takeout coffee and the bites that best complement the beverage. Aromatic and beautiful temptations include freshly baked croissants, banana bread, and camembert cheese bread. These can be enjoyed even more with the patisserie's original jams that add delightful flavors according to your preferences.
Candies, chocolates, and truffles are also available for customers who have a love for the sweeter things.

The Westin Deli invites you to an enticing journey of delectable indulgence at our Tokyo patisserie.
Business hours: 10:00 ~ 20:00 (Cakes are avialable for purchase from 10am)
Inquiry: 03-5423-7778
Happy Yellow Mango Pudding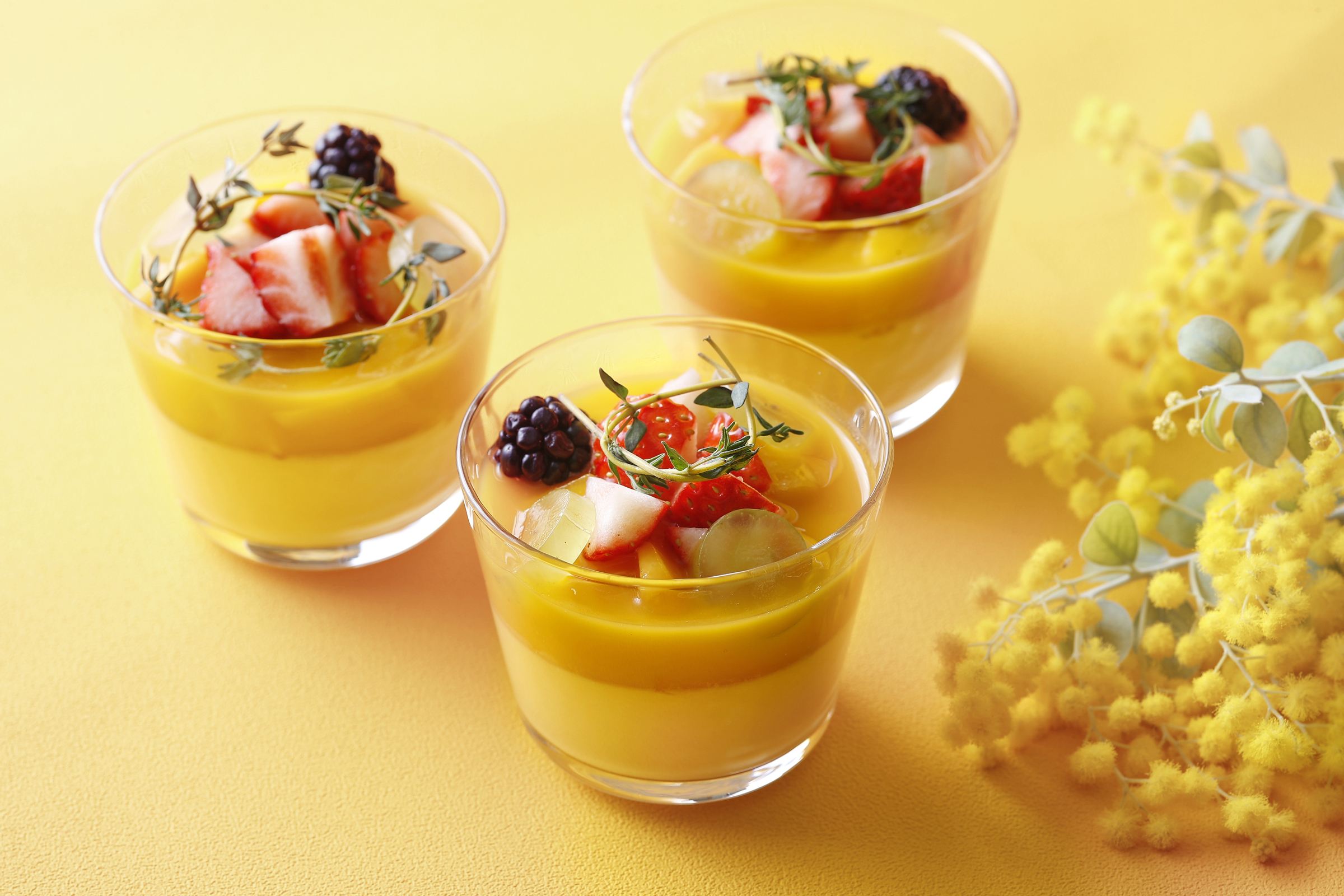 Mar 1 (Wed) - Mar 31, 2023 (Fri)
A rich, smooth mango pudding made with an original hotel recipe - fruity yet creamy, the flavors of mango is enhanced by a refreshing orange and mango sauce and berries.
Price : 850 JPY (incl.tax)
Original & Cats Assorted Cookies (Online Shop Exclusive)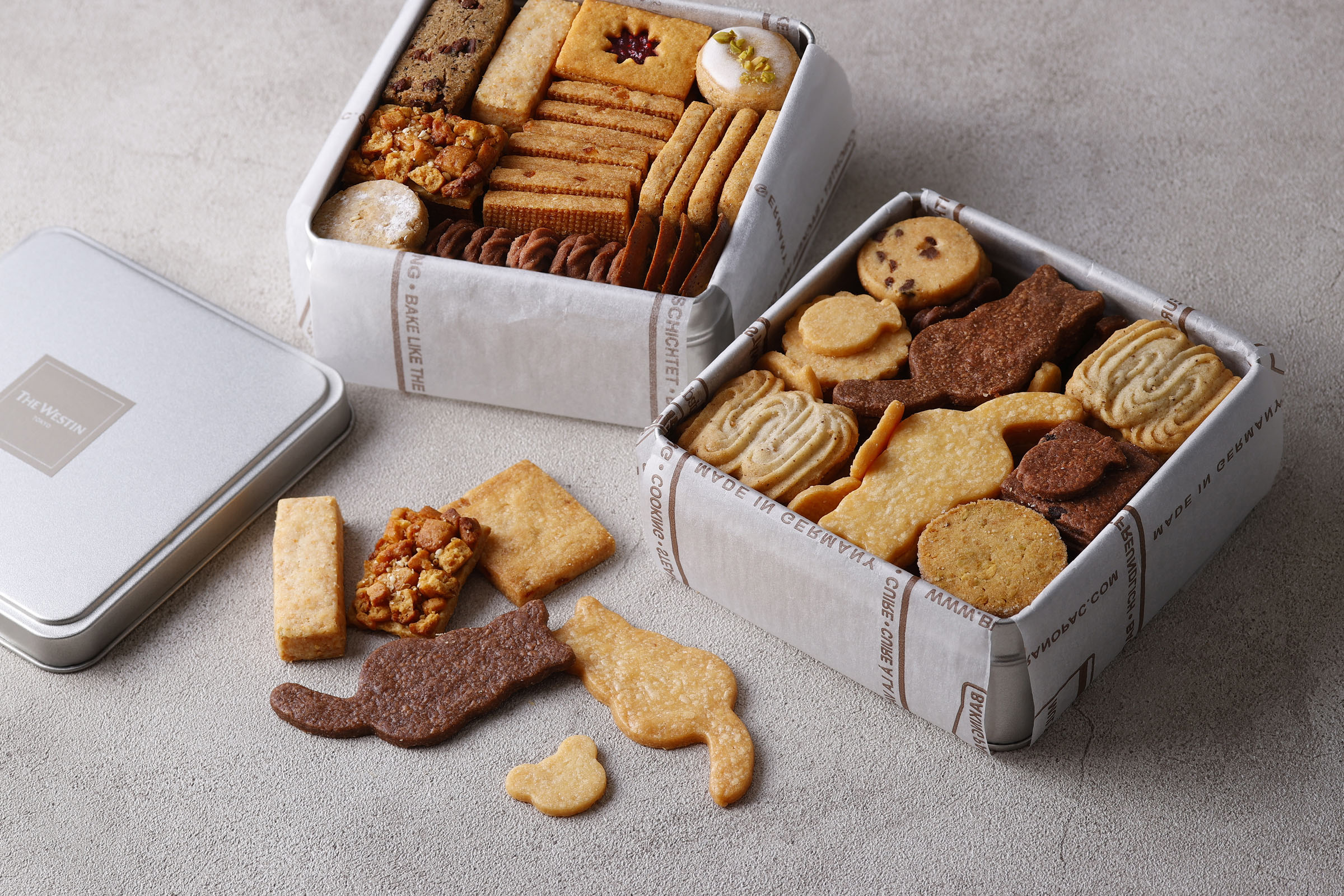 Exclusively designed by Executive Pastry Chef Kazuo Suzuki, our selection of assorted cookie tins is a perfect choice for a relaxing afternoon time treat or as a hearty gift for family and friends.
Available in two variations (Original / Cats), all cookies are crafted with premium natural ingredients such as beet sugar and AOP certified unsalted fermented butter from Isigny-sur-Mer in France.
Price: 3,900 JPY each (incl.tax)
Sakura and Cranberry Butter Sandwiches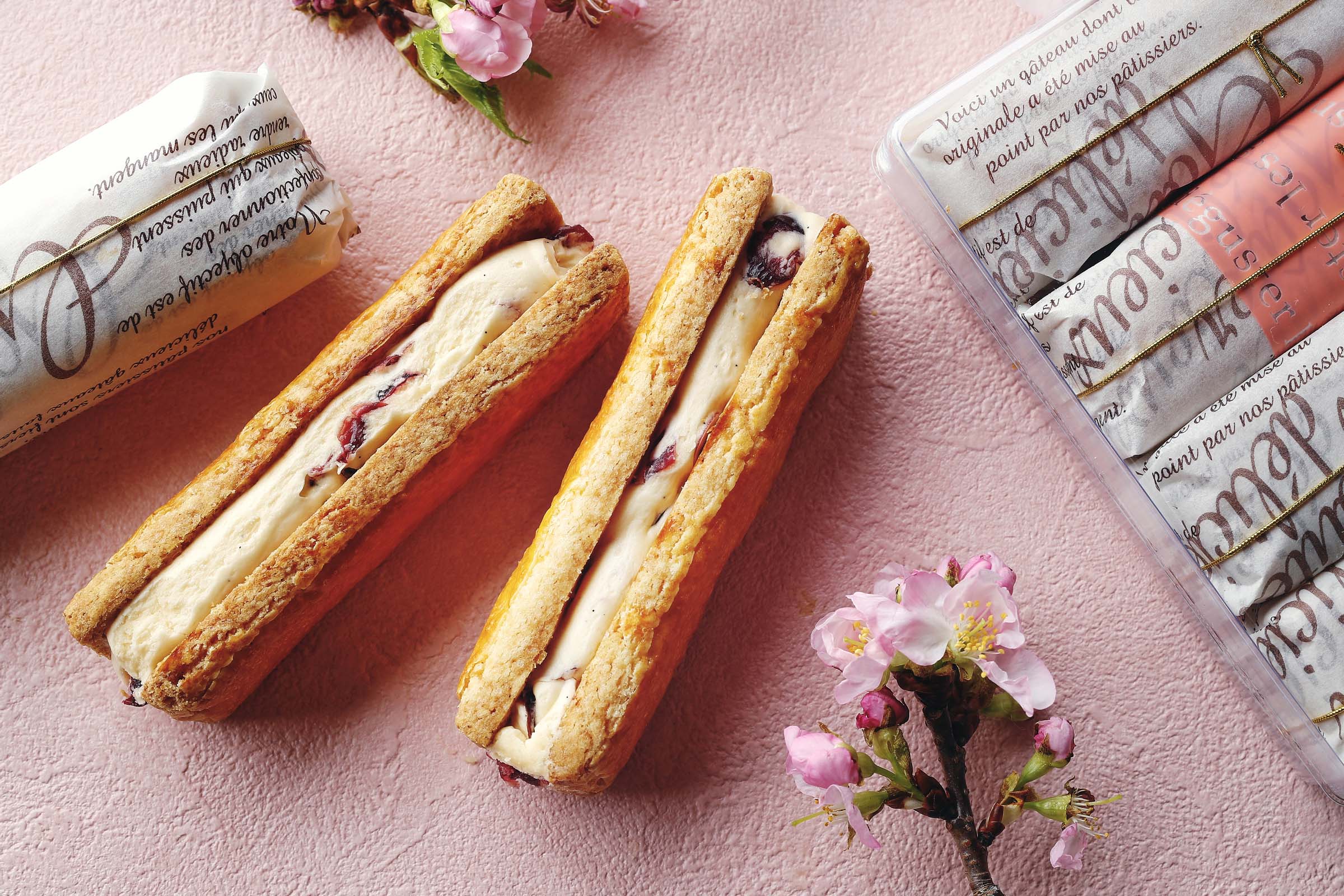 Mar 1 (Wed) - Apr 30, 2023 (Sun)
Enjoy our signature butter sandwiches with a spring twist - silky cherry blossom liqueur-infused buttercream and dried cranberries are sandwiched between rich, flaky sable cookies for an elegant sweet sensation. These exquisite treats are as beautiful as spring's fluttering cherry blossoms.
Served chilled for the best flavours and textures.
Price (1 box 4 sandwiches): 1,650 JPY (incl.tax)
CHOCOLATE-COATED FRUITS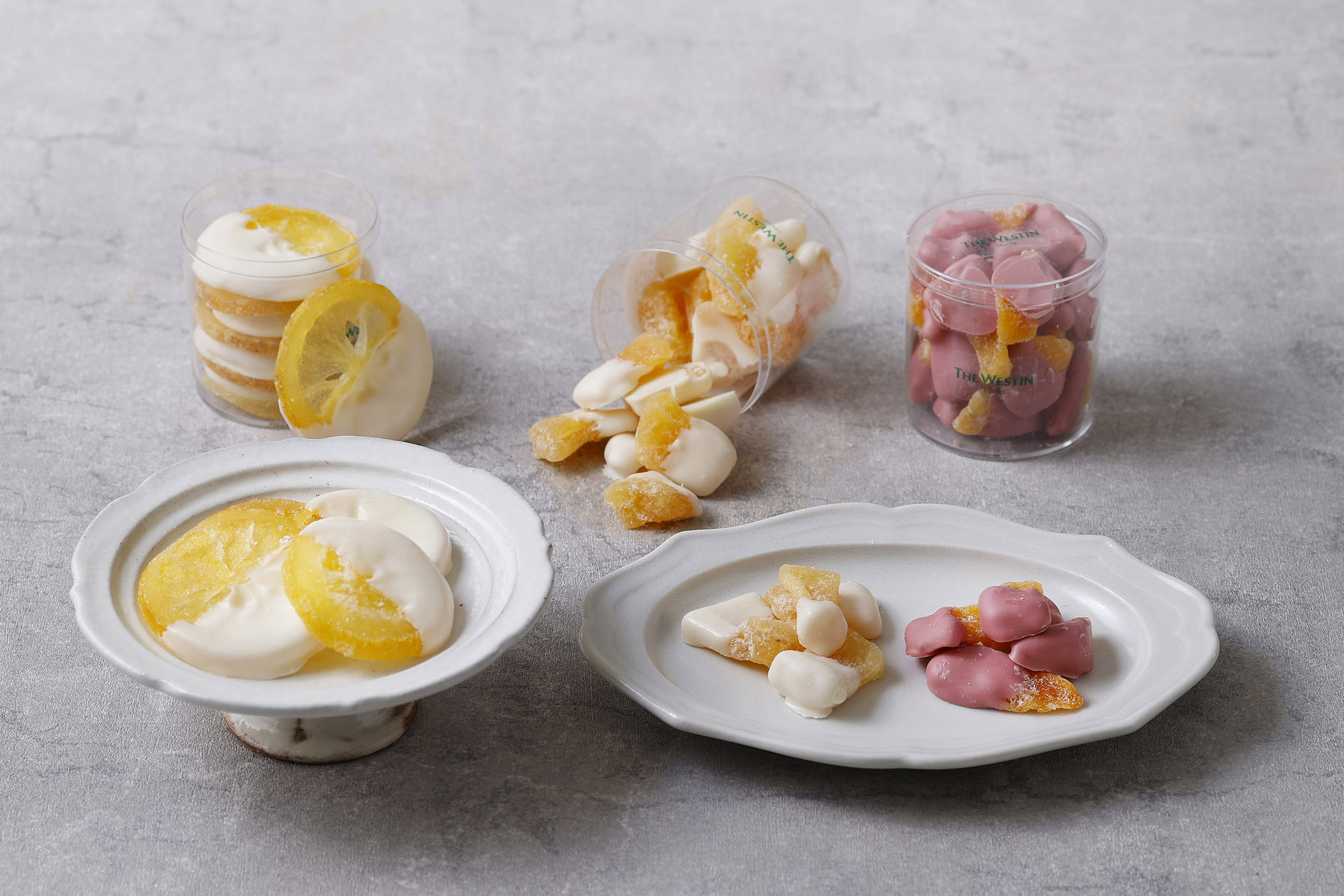 A typical European treat, these chocolate-coated candied lemons showcase the beauty and versatility of the citrus fruit. Made with top-notch Hiroshima lemons, a favourite of the chef, these chocolate bites raise the bar for taste and texture.
In addition to the lemon variation, you can also enjoy our pineapple chocolate, which features a pronounced sweet and sour flavor, as well as our sweet mango coated with fruity ruby chocolate.
Lemon chocolate: 1,500 JPY (incl.tax)
Pineapple chocolate: 1,550 JPY (incl.tax)
Mango chocolate: 1,700 JPY (incl.tax)
Westin Assorted Cookies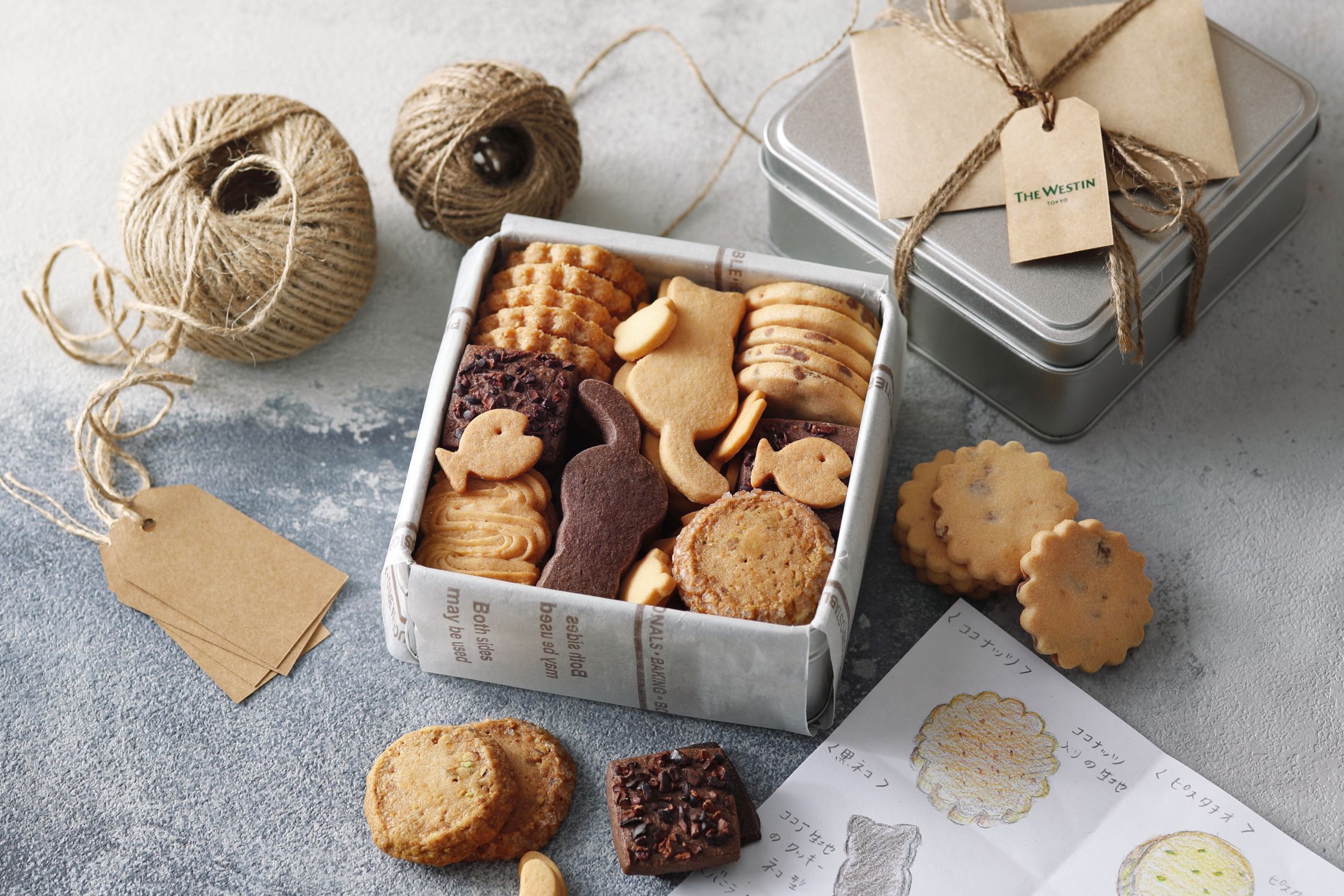 'So cute!' is often the first reaction upon opening our tin of assorted cookies, full of nine different varieties of premium cookies. Fine-grained, perfectly sweet butter sables with a hint of salt, crispy pistachio, fragrant galettes chocolat... Delight in a world of flavours.
Price: 3,900 JPY (incl.tax)
*Only available at Westin Deli (1F)
Westin Butter Sandwiches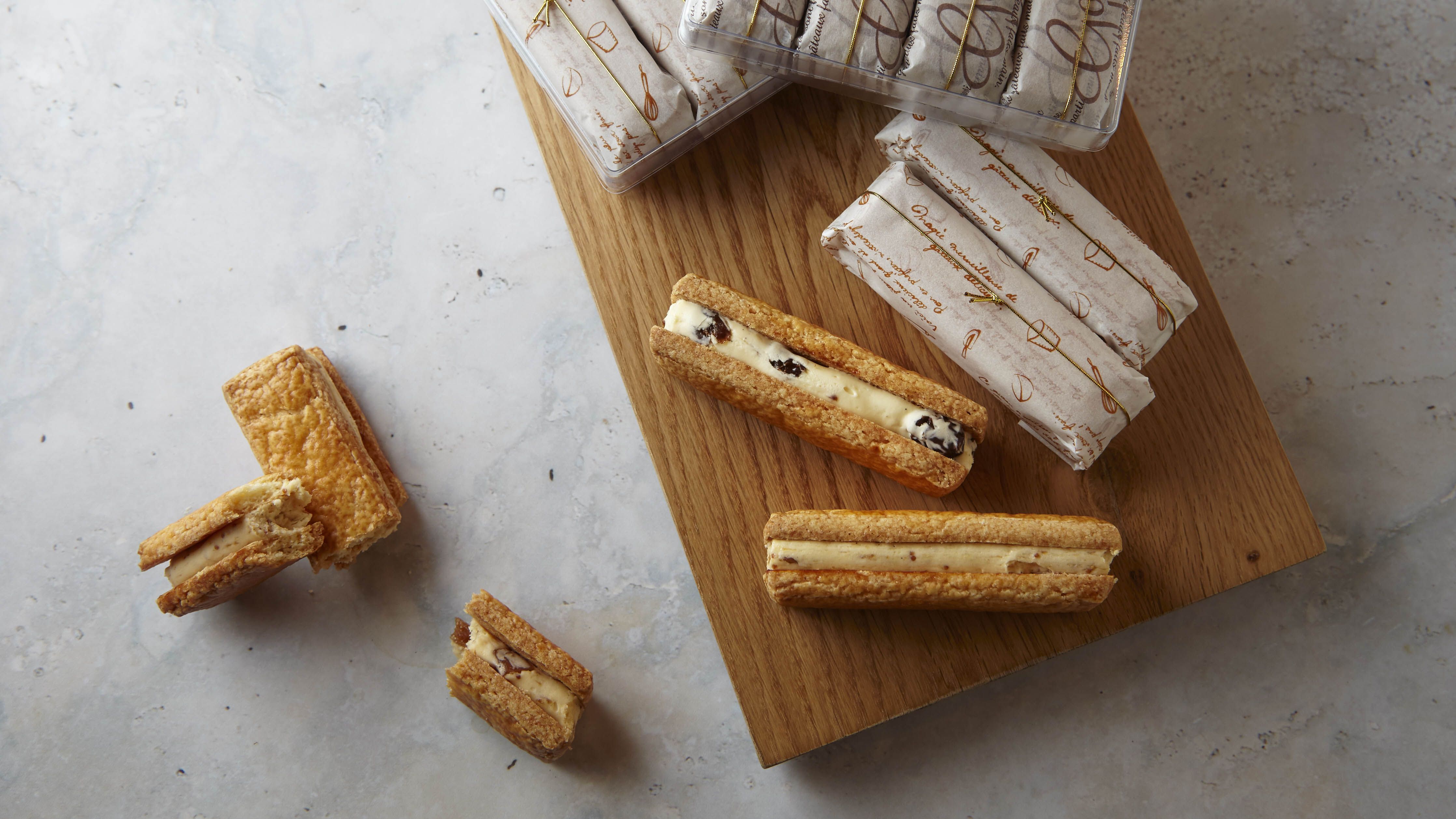 Fragrant, fresh buttercream is a perfect match for light and moist sable cookies. These irresistible sandwich cookies use plenty of buttercream made from rich custard and butter.
Come in two flavors: "Rum Raisin," featuring rum-flavored raisins in buttercream, and "Fig," incorporating dried figs.
They taste even better after some time in the refrigerator!
Price (1 box 4 sandwiches): 1,550 JPY (incl.tax)
Dessert Assorted Set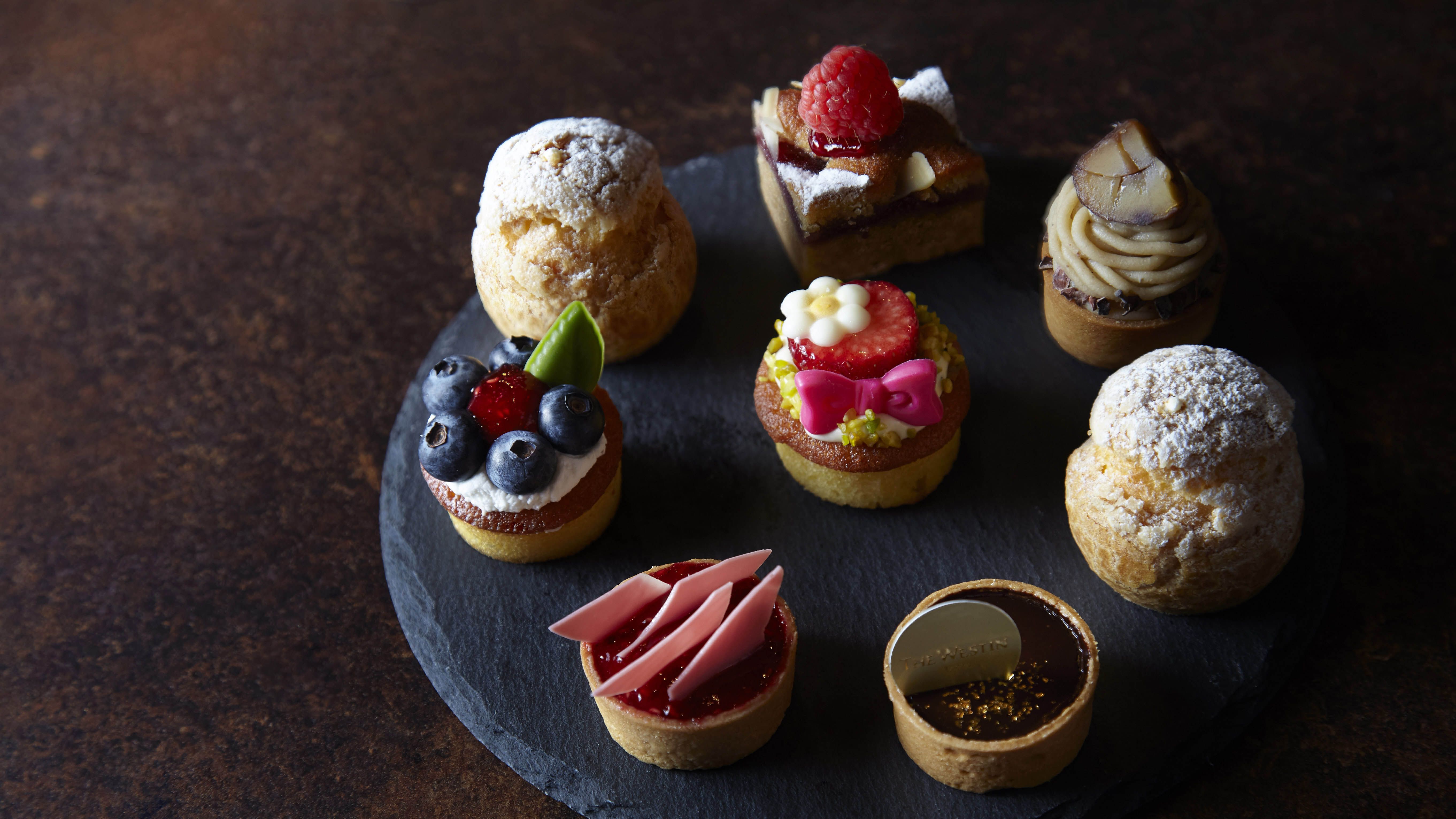 The assorted dessert set allows you to enjoy 8 kinds of the most popular mini-cakes from the Westin Deli. From cream puffs to Mont Blanc, indulge in these delightful sweets crafted by our Executive Pastry Chef Kazuo Suzuki.
This assortment is also perfect for a gift or souvenir!
Price (1 box 8 cakes): 2,500 JPY (incl.tax)
Signature Cream Puff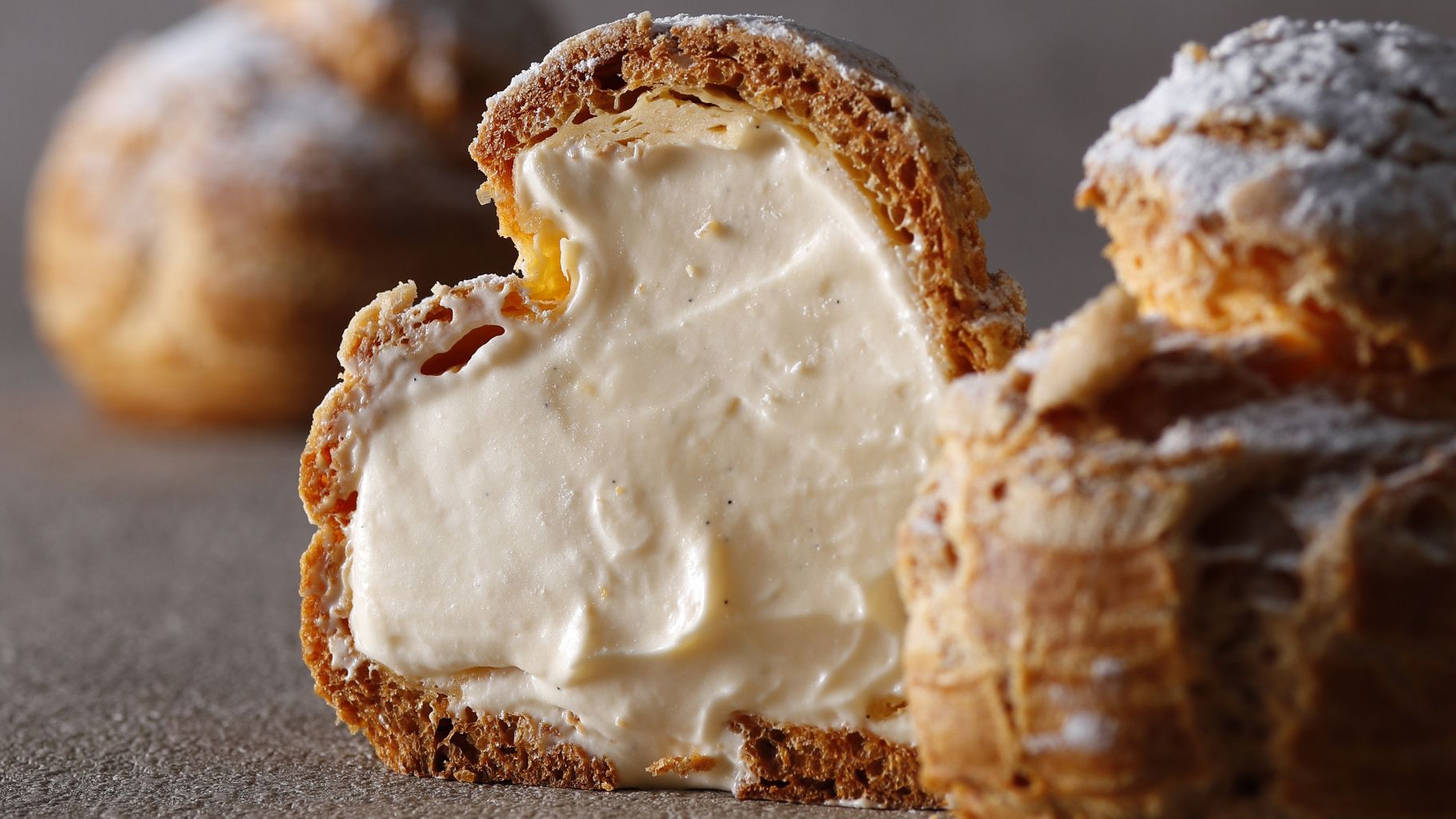 Soft yet with a bite : our signature cream puffs.
These puffs made with crisp choux pastry and tightly packed with delicate, fluffy cream are bound to put a smile on your face. Cream-loving executive chef Kazuo Suzuki created this version of the famed treat, and has painstakingly perfected it over the years. No wonder it is consistently our most popular takeaway option.

Price: 650 JPY (incl.tax)
Pound Cake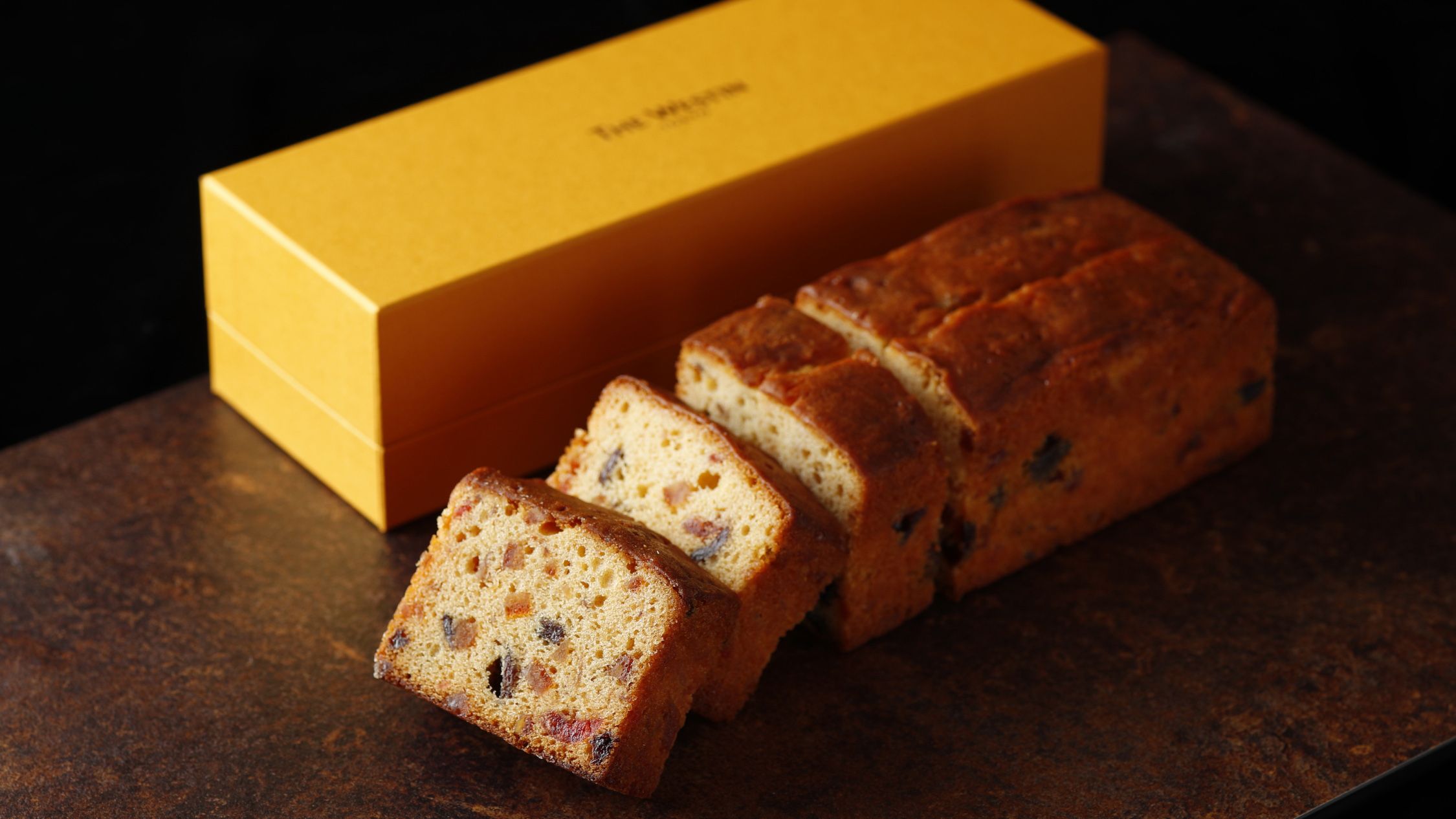 A present fit for both weddings and businesses. The finest cake, always made with care and without changes to the traditional methods – rest assured, the perfect gift. Try one of our three signature variations: Tea & Orange Cake, Fruit Cake, or Lemon Cake.

Price: 2,650 JPY each (incl.tax)
Low Carb Camembert Cheese Cake
Boasting a soft, cream texture and rich cheese flavors, the low-sugar cheesecake at Westin Deli contains only 5 grams of sugar compared to 20-25 grams of a regular shortcake.

Price: 700 JPY (incl.tax)
The Westin Tokyo Signature Pudding
Enjoy pure satisfaction on your dessert plate with our signature pudding.
The renewed recipe features a richer sensation than ever. Best served on a plate, the subtle bitterness of caramel sauce spreads and fuses with the delicate sweetness of Wasanbon sugar for a heavenly harmony.

Price: 600 JPY (incl.tax)

0